There are tons of reasons why you might want to listen to the surroundings of someone's phone and, with the help of technological advancement, easily get the task done. With the knowledge you gain from this post, you'll be able to easily and effectively monitor a phone's surroundings using a cell phone listening device app.
Main Purposes to Tap Someone's Phone Remotely
You've probably seen a scene in a movie or TV show where someone taps a phone to listen in on talks or hear conversations from far away app. Is remote phone tapping indeed possible, and if so, what possible reason might there be to do so?
The truth is that with the advent of technologies like speech recognition software and GPS tracking systems, hacking into people's phones is easier than ever. In addition to aiding authorities in investigations, private citizens may keep tabs on family members' electronic devices for security reasons.
Accessing information from another person's device is no longer the stuff of science fiction because of the availability of dependable remote cell phone tap apps on the internet. A reliable method of remote tapping provides comprehensive protection, and real-time updates and alerts are delivered straight to linked cell phones.
There are a number of practical uses for remote access to mobile phones besides keeping tabs on loved ones. For example, employers could benefit by granting employees some privacy while still monitoring organizational data usage. Also, business owners could check precise timesheet details with employees working remotely, etc.
Information that can be obtained by tapping someone's phone include:
Texts messages
Emails incoming
Call history records
Microphone
Social apps
Other reasons you might need to remotely tap someone's phone are:
Surveillance: To monitor someone's activities, communications, and movements.
Espionage: To gather confidential information or trade secrets.
Parental control: To monitor your children's phone usage and online activities.
Investigation: To gather evidence for criminal investigations or other legal proceedings.
Relationships: To monitor your partner's phone activities for personal reasons, such as trust issues.
Learn How to Access iPhone Microphone Remotely
Are you planning to track a cheater iPhone? If yes, you're in the right place. There are various ways to listen to phones surrounding live. However, here are some trusted methods and iPhone spy apps that will do the trick:
Surroundings of an iPhone – 5 Steps to Listen to Them
It's intriguing to learn that the iPhone's Live Listen functionality allows you to use the device as a remote microphone.
Apple's AirPods is an optimized iPhone remote listening device that may be used to take in the surrounding sounds. If you want to hear what other people are saying, you'll need to pair an AirPods with the target iPhone. Here's how to remotely activate microphone on iPhone and turn a person's phone into a spy gadget:
Step 1: First, add the Live Listen option to the Control Center. Choose Control Center from the menu that appears after you select Settings.
Step 2: Select Hearing and tap the "+" icon on the left.
Step 3: Launch Control Center and select the Ear icon to enable the Live Listen option.
Step 4: Choose the linked hearing device, such as AirPods.
Step 5: Activate Live Listen by selecting it from the menu. Afterward, get close to anybody you want to eavesdrop on with your iPhone.
The major drawback of the iPhone's Live Listen feature is that it requires you to be physically close to the target iPhone in order to listen to its surroundings. For optimal connection and sound quality, the iPhone must be within 5 to 15 meters of the AirPods at all times. Also, pay attention that when it is active, the lightbulb on the target photo screen will turn on, and the person may notice it. However, additional methods allow you to listen in on your iPhone from a great distance without raising suspicions.
Tools to Use for iPhone Surroundings Listening
Use the following reliable tools to remotely listen to an iPhone surroundings.
Way 1: uMobix iOS Monitoring
uMobix is an excellent option for those who wish to listen to the audio from their iPhone's environment from a distance. It's an app that lets you keep tabs on and manage a target mobile device from afar. The intuitive design makes it possible for anyone to spy on a targeted device's conversations and learn valuable information remotely. As long as your gadget is caonnected to the internet, you'll be able to listen to high-quality recordings of the sounds around it. In addition, once deployed, their capabilities never necessitate more work because they are managed automatically.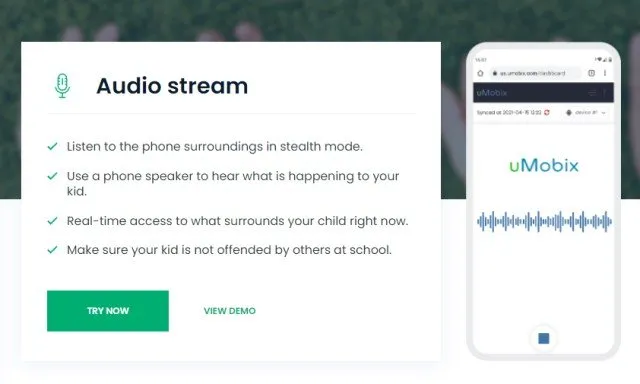 The best part about using uMobix to listen to conversations from a distance app or cell phone is that it works in stealth mode. This way, the device owner will not know they are being monitored.
Way 2: iPhone WO Mic
With this app, you'll have everything you need to remotely access iPhone microphone and listen to the targeted iPhone surrounding conversation remotely. To get started with WO Mic, simply download and install it on both your computer and phone. Then just connect them together and follow the provider's instructions. With this, you're good to go.
Way 3: EZ Mic for Listening to iPhone
If you are looking for an alternative to remotely access iPhone from another iPhone, you may consider EZ Mic.
The EZ Mic app is ideal if you need a way to turn an iPhone into a wireless microphone. The EZ Mic is a simple app that can be installed on a target iPhone to enable remote monitoring. This app makes it easy to pick up background sounds when activated.
How One Can Turn on Android Cell Phone Microphone Remotely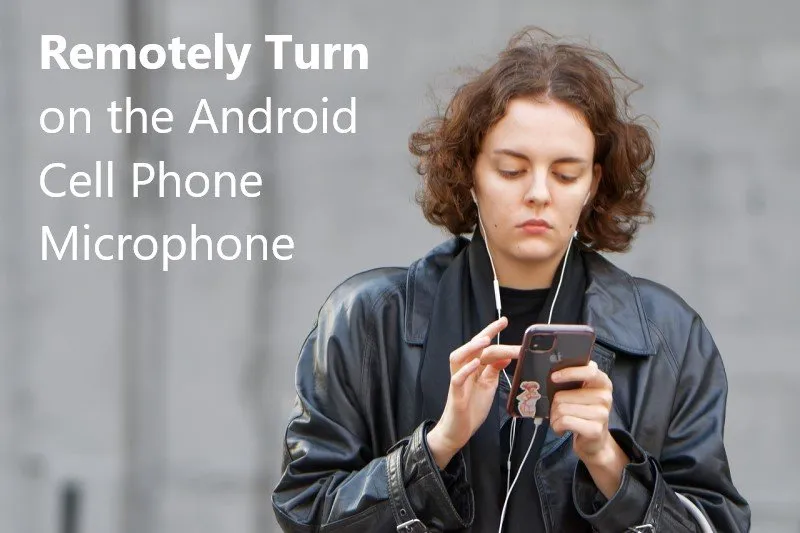 Android phones are beginning to dominate the world, but so is the digital world catching up. Whether you are trying to catch cheaters on Android or simply just trying to make sure your children are safe, the following methods are tools that may come in handy.
Steps to Listen to the Surroundings of an Android Phone
The following are easy steps to listen to your surroundings with an Android phone.
Install a spy app: There are several spy apps available on the Google Play Store that allow you to listen to the surroundings of an Android phone.
Configure the app: Once you have installed the app, configure it by setting up the phone number, email address, etc.
Enable the microphone: In the app settings, make sure the microphone is enabled so that you listen to the surroundings.
Start listening: After configuring the app and enabling the microphone, start listening to the surroundings by logging into the app or receiving notifications when the app detects sounds.
Apps to Use for Android Surroundings Listening
While selecting a listening device app for Android to listen to surrounding sounds, you may consider a few options. Some of them are:
Way 1: Hoverwatch Call Recorder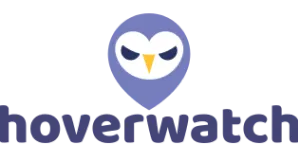 Hoverwatch's call recording capability, designed specifically for Android phones, is unrivaled. Yes! Immediately begin recording Android surroundings by installing this sophisticated program on your target's Android cellphone. And if you turn on Stealth Mode, it will allow you to live listen Android surroundings without being detected by the device owner.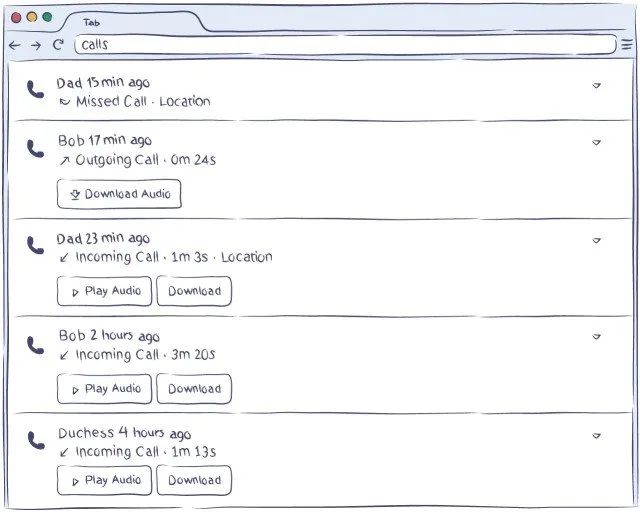 Over the years, Hoverwatch has built a solid reputation as one of the most reliable tracking apps for couples and a go-to solution among Snapchat spy apps for Android.
Way 2: Mic Stream
Mic Stream is an excellent Android remote microphone spy that allows you to listen in on your surroundings. Your Android phone now makes it simple to listen in on nearby conversations with the push of a button. You don't even have to get up from your chair to keep track of what's going on around your targeted gadget; this great feature will send you notifications if something new occurs in its environment.
Way 3: Google Voice
The Google Voice app on an Android device is an effective Android remote microphone spy that can monitor the phone's immediate environment. It does this by broadcasting sounds to the targeted phone's microphone, which is then processed and understood by Google's artificial intelligence systems.
This app makes it simple and fast to gather data about one's immediate environment, including the temperature, the sound level, and the location of nearby people. And it does all this with hardly any effort at all while producing a great deal.
Way 4: Cube Call Recorder
The Cube Call Recorder app for Android is a handy tool for eavesdropping on a conversation. It's easy to pick up and play around with, thanks to its straightforward interface. Live conversations can be recorded locally on your device or remotely over Bluetooth or Wi-Fi on several devices simultaneously with Cube Call Recorder.
In addition, its settings are flexible enough to provide a personalized recording and playback experience without compromising audio quality. Whether you're trying to keep tabs on a cheating boyfriend during important calls, Cube Call Recorder can get the job done.
Other Apps to Listen to Phone Surrounding Live
Are there other apps I can use to listen to phone surroundings remotely or find my husband's iPhone?
The simple answer is YES. There are a handful of apps on the market that you may use to activate the microphone on iPhone and Android remotely. Some of them are:
Keep the Borders of Ethical Norms While Listening to Someone's Phone Surroundings
It is always important to consider ethical implications before listening in on someone else's phone surroundings. Spy listening apps are immensely valuable for several reasons, some of which we've discussed. However, there are concerns associated with tracking the whereabouts and actions of persons without their knowledge or agreement.
One must consider the moral consequences of using an interception device and set up clear procedures to preserve individuals' privacy before deciding to implement such a device. Keep in mind that no surveillance equipment should be used unless absolutely necessary, as doing so would violate the privacy rights of others.
FAQ
👂➡ How to remotely turn on iPhone microphone?
To activate a microphone on a mobile device from a distance, you will first need to download and install a program that has permission to use the microphone. After setup, permanently set the microphone to "on" status. Since the rules governing remote listening app kinds vary from country to country, it is important to familiarize yourself with the laws and regulations on your own before beginning any such activity.
👂➡ How to listen to your neighbor's conversations?
For ethical reasons, spying and listening to your neighbor's conversation is highly discouraged. However, if you have to, use one of the methods outlined in our article, such as AirTags (you may hide one of them in their apartment) or spy apps (though they require installation most often).
👂➡ How to listen to other people's cell phone conversations for free?
Use a listening device app to spy and listen to other people's conversations for free. For iPhone users, simply use the control center on the phone settings. At the same time, Android users will have to depend on the services of 3rd party apps. 
👂➡ How to bug a person's calls?
uMobix, a trusted spy app, is the greatest option for listening in on someone's phone calls apps. This Android spy listens to surroundings, spies on calls, texts, and even telephony-capable social media apps like WhatsApp, Facebook, Instagram, etc., which may all be discreetly monitored on the target phone from a distant location with this software.
Final Thoughts
Hacking someone's phone and listening to their surroundings is a controversial topic because it exposes the privacy of others. However, circumstances like security situations, parental control, criminal investigations, and tracking a cheating partner may warrant opting for this controversial option. Therefore, if you have a pressing need to listen to the surroundings of someone's phone, you may opt for any of the suggested apps discussed above. We hope this post has been of great value to you.